Akiva Kenigsberg, DPM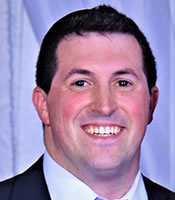 Dr. Akiva Kenigsberg is a graduate of the New York College of Podiatric Medicine. He then went on to Jamaica Hospital Medical Center where he completed his residency. His training included all aspects of podiatric medicine and surgery, including trauma and orthopedics, wound care and diabetic limb salvage, pediatrics to geriatrics, as well as all forms of routine care.
Coming from a family of educators, Dr. Kenigsberg believes strongly in patient education and health literacy. He empowers his patients to make informed decisions regarding their health by ensuring they are fully informed on options available. Dr. Kenigsberg loves getting to know his patients and prides himself on his ability to make them feel comfortable while receiving treatment.
Today's healthcare landscape is always evolving. New research and original modalities can help guide physician treatment plans. Dr. K keeps abreast of and embraces these changes and attempts to incorporate them in his practice.
When not in the office Dr. K enjoys spending time outdoors, being with his wife and daughters, as well as cooking and baking.