Jonathan M. Klein, DPM, FACFAOM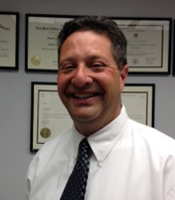 Dr. Jonathan Klein has been in private practice since 1997. He has served the Queens community for many years. He graduated from SUNY Binghamton in 1991 and then went to the New York College of Podiatric Medicine and graduated in 1995. He completed a two year Podiatric Orthopedic and Surgical Residency. He is Board Certified in Podiatric Orthopedics and Primary Podiatric Medicine. He is a fellow of the American College of Foot and Ankle Orthopedics and Medicine.
Dr. Klein is an experienced, well-trained podiatric physician who takes pride in his work. His clinical skills combined with his generosity, people skills and sincere concern for patients results in referrals from numerous patients and other medical specialists.
Dr. Klein is married and the father of two boys. He enjoys coaching their baseball and football teams.